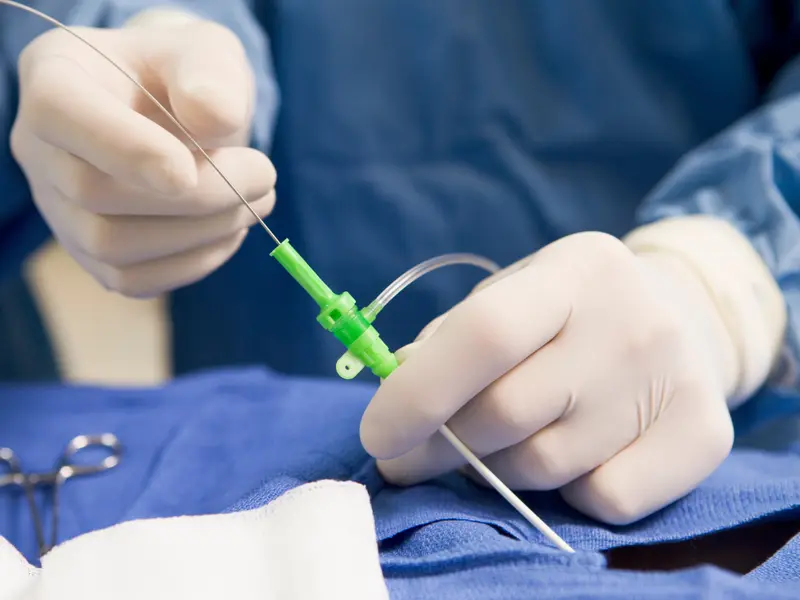 Interventional cardiologists diagnose and treat heart conditions using minimally invasive techniques, often involving catheters
Catheters are small, flexible tubes that interventional cardiologists at our Dallas heart hospital insert into the body. The catheter is carefully threaded into the heart using an X-ray machine that produces real-time images (fluoroscopy). Once the catheter is in place, contrast is injected, and images of the heart are taken.
Traditionally, interventional cardiologists perform cardiac catheterization using a puncture in the leg, but studies have shown going through the wrist—using the transradial approach—produces the same results with a shorter hospital stay and less bleeding or discomfort for the patient.
Interventional cardiologists at Baylor Scott & White Heart and Vascular Hospital – Dallas have performed the transradial approach since 1996.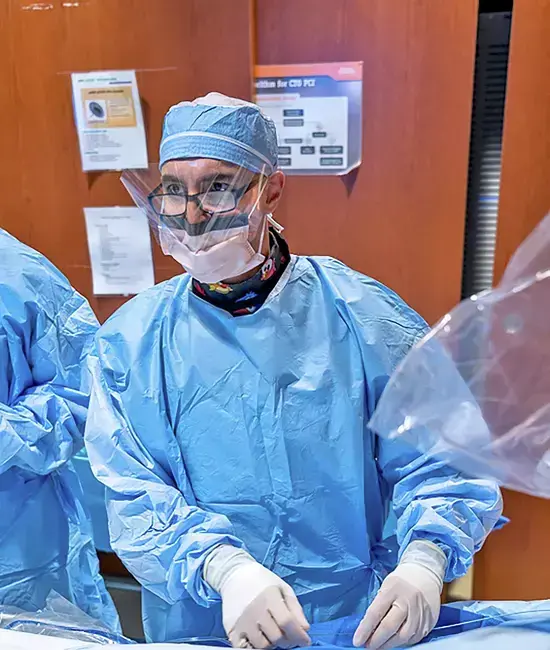 Our interventional cardiology program in Dallas is supported by six well-equipped catheterization labs and two hybrid labs
The Baylor Scott & White Heart and Vascular Hospital – Dallas interventional cardiology program is supported by six well-equipped catheterization labs and two hybrid labs featuring advanced technology that enhances data accuracy and accessibility for the interventional cardiologists.
Some of our technology include:
Digital subtraction
Intravascular ultrasound
Intracardiac echocardiography
Coronary flow wire equipment
Optical coherence tomography (OCT)
Known throughout the Dallas-Fort Worth Metroplex as a local heart hospital for advanced cardiovascular disease treatment, our award-winning heart center program provides patients the timely care needed in critical situations. Access to the advanced generation of interventional devices, including cardiac, carotid and vascular stents, allows for the personalized care each heart patient needs.
Interventional cardiology procedures we offer in Dallas
​​​​​​​​​​​​​
Advanced generation of stents
The design and functionality of stents that interventional cardiologists here in Dallas use to treat heart conditions have improved over time and allowed for better options for cardiac patients. Through participation in clinical trials, Baylor Scott & White Heart and Vascular Hospital – Dallas served as a research site for many of the recent to-market stents.
ASD and PFO closure
Atrial septal defect (ASD) and patent foramen ovale (PFO) are types of congenital heart defects in which a hole occurs between the heart's upper chambers or a natural opening between the atria fails to close. The hole allows blood to seep from the left atrium to the right atrium. As part of our Dallas interventional cardiology program, we can repair these openings.
Balloon valve repair
If a heart valve fails to open and close properly, interventional cardiologist in our Dallas heart center will attempt to fix the valve or, if necessary, replace it. These heart procedures are generally effective in restoring healthy blood flow.
Cardiac assist device
We offer a variety of cardiac assist devices that may be necessary to support a weakened heart as part of our interventional cardiology program.
Chronic total occlusion (CTO)
Baylor Scott & White Heart and Vascular Hospital – Dallas is a regional and national referral center for high-risk patients seeking treatment for totally occluded arteries with chronic total occlusion (CTO) stenting. An option to bypass surgery, the Dallas heart hospital is among a handful of medical facilities in Texas offering this service to address coronary obstructions.
Coronary angioplasty and stenting
An interventional cardiology procedure in which a narrowed section of a coronary artery is dilated with a balloon catheter to improve blood flow in a blocked artery. In most cases, a stent is placed at the same time. With these techniques, the heart physicians on the medical staff at Baylor Scott & White Heart and Vascular Hospital – Dallas can often achieve results similar to those of more invasive methods like open-heart surgery, while minimizing pain, recovery time and complications.
Coronary atherectomy
This refers to the removal of plaque from a heart artery via a specially equipped catheter used by interventional cardiologists.
Left atrial appendage (LAA) occlusion therapy
The left atrial appendage is the main source of blood clots in patients suffering from atrial fibrillation. LAA occlusion is supported by research to significantly reduce a patient's risk of having a stroke. Closure methods include surgical and catheter-based approaches.
One of these approaches is using the Watchman™ device. This quarter-sized device is inserted through a catheter and placed on the left side of the heart permanently sealing the LAA and preventing clots from entering the circulatory system.
Peripheral angiography and angioplasty
During angiography, interventional cardiologists inject dye through a catheter that allows them to create X-ray images of blood vessels to identify blockages. This minimally invasive heart procedure can be done on peripheral arteries in the arms or legs. Angioplasty is sometimes a next step if narrowing or blockages are apparent.
Peripheral atherectomy
This is the removal of plaque from an artery in the arm or leg using a specialized catheter.
Robotic-assisted coronary angioplasty
Robotics improve the precision of stent and balloon placements and reduces radiation exposure during the procedure. Interventional cardiologists on the medical staff at both the Dallas and Fort Worth campuses became part of a small group in the state of Texas that first used robotic-assisted technology to perform coronary angioplasties or place cardiac stents.
Transradial cardiac catheterization
Transradial catheterization is both a safe and effective interventional cardiology procedure to diagnose and treat blockages in the heart.