Baylor Scott & White Medical Center – McKinney is a full-service, fully-accredited not-for-profit hospital serving residents in McKinney and the surrounding communities. Baylor Scott & White – McKinney is focused on being the best place to give and receive safe, quality, compassionate healthcare. The 192-bed hospital offers advanced medical services for women's services, neonatal intensive care, orthopedics, heart and vascular, neurosciences, stroke, diagnostic imaging, intensive and emergency care.
The foundation of our hospital remains providing quality, compassionate care to our patients and families. We want everyone who crosses our doorstep to feel welcomed, valued, and cared for at the very highest level.
More about us
---
Enhanced visitor precautions

Learn more about our COVID-19 safety precautions.

Free parking is available in front of the hospital.
Complimentary valet parking is also available during business hours.
Medical services
​​​​​​​​​​​​​Baylor Scott & White Health offers expertise and treatment options conveniently located near you.
Insurances accepted
Baylor Scott & White has established agreements with several types of insurance to ensure your health needs are covered.
Insurance listings are subject to change without prior notice. Please call the hospital or health plan to verify coverage information before scheduling your visit/procedure.
Choice POS II

Open Access Elect Choice

Open Access Managed Choice

Select SM

Aetna Signature Administrators

Elect Choice

Health Network Option

HMO

Managed Choice

Open Access Select

Open Choice PPO

QPOS

Medicare Advantage Plans

Aetna Whole Health/BSWQA

Baylor Scott & White Health Plan - (16)

HMO Network-Individual/Family

EPO Network-Individual/Family

BSWH Employee Network - PPO & HSA

BSWH Employee Network - SEQA & EQA

BSW SeniorCare Advantage HMO

BSW SeniorCare Advantage PPO

HMO Network-Group

PPO Network-Group

PPO Choice Network

PPO Choice Preferred Network

Cigna PPO Network - Out of Area Member Plan

PHCS/OPTUM - PPO Network - Out-of-Area Member Plan

EPO Network-Group

McLane Group Network

BSW Preferred HMO Network - Group

BSW Preferred PPO Network

Blue Cross Blue Shield - (11)

Blue Advantage HMO

Blue Choice PPO

Blue Essentials

Blue Essentials Access HMO

Blue Premier

Blue Premier Open Access HMO

Medicare Advantage - EFH Retirees

Medicare Advantage - Oncor

ParPlan

Traditional

Indemnity

Children's Medical Center Employee Plan

City of Dallas Employee Plan

Cigna Choice Fund

EPO

HMO

HMO Open Access

HMO/POS

LocalPlus

LocalPlusIN

Network

Network Open Access

Network POS

Open Access Plus

POS

POS Open Access

PPO

American Airlines Employee Benefit Plan

ACCEL Network

Preferred Network

ChoiceCare

Humana Preferred

National POS

Commercial PPO Plans

Medicare Advantage Plans (exclude Southwestern Health Resources Network)

Hunt Memorial Hospital - (1)

Midland Memorial Hospital - (1)

Parkland Community Health Plan - (2)

CHIP Medicaid

HealthFirst Medicaid

Prime Health Services - (1)

Sedgwick Preferred Network f/k/a Southwest Medical - (1)

Superior Health Plan - (6)

Ambetter Essential Care - Bronze

Ambetter Balance Care - Silver

Ambetter Secure Care - Gold

Medicare/Medicaid Dual Needs Plan: Advantage HMO SNP

Medicare/Medicaid Plan

STAR+PLUS

Superior HealthPlan - (1)

Texas Christian University - (1)

Charter HMO

Charter EPO

Charter POS

Choice HMO

Choice +HMO

Choice EPO

Choice Plus POS

Core HMO

Core EPO

Core Choice Plus POS

Navigate EPO

Navigate HMO

Navigate HMO+

Navigate POS

PPO

Options PPO

Select +

Select HMO

Select EPO

Select Plus POS

AARP Medicare Complete

Dual Complete Medicare Advantage

Medicare Complete

Medicare Gold

Medicare Silver

Group Medicare Advantage

Nexus ACO OA

NexusACO R

UnitedHealth WellMed Network - (6)

AARP Medicare Complete

Dual Complete Medicare Advantage

Medicare Complete

Medicare Gold

Medicare Silver

Group Medicare Advantage

University Mary Hardin-Baylor - (1)
We're sorry!
We couldn't find any results for ""
Mobile makes it easy
Just like we make it easy to get care when your child is sick or injured, our top-rated app, MyBSWHealth, can simplify keeping them healthy. The app lets you book appointments, message your pediatrician, view your child's medical records and schedule virtual same-day care from your computer, smartphone or tablet.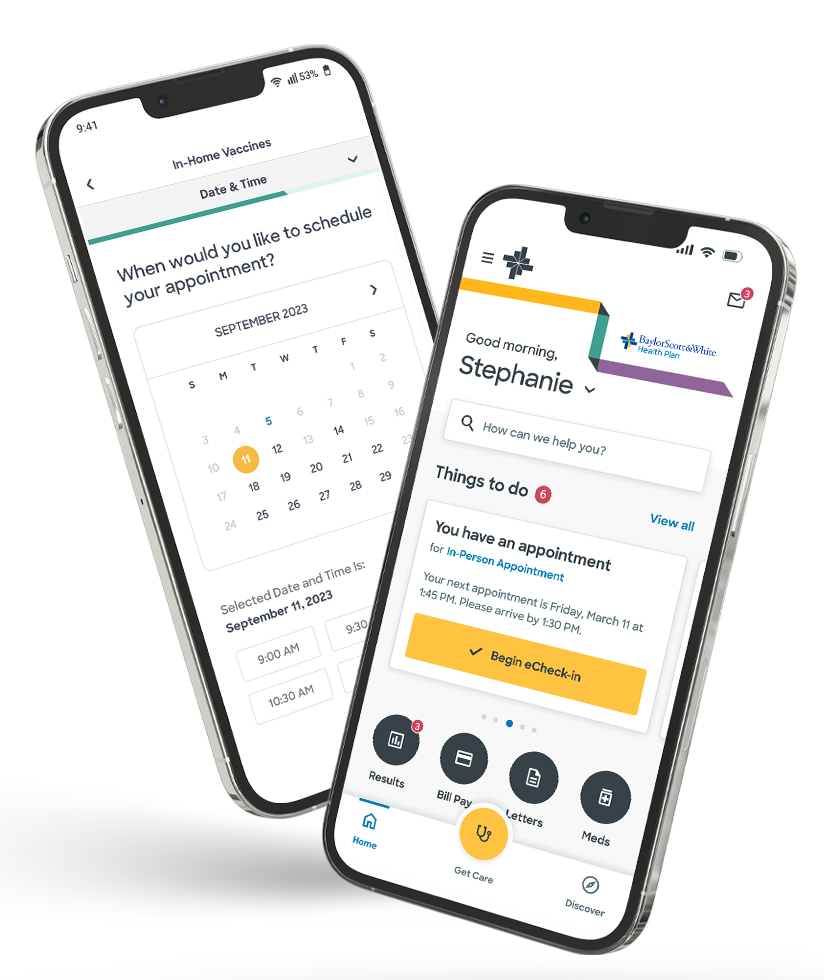 More helpful information
​​​​​​​​​​​​​Here's more information to help with your visit to our campus.
ATMs
An automatic teller machines (ATM) is available lower level by Town Square Café or on the first floor in the main lobby.
Community involvement
As a partner with the citizens of our community, Baylor Scott & White Medical Center – McKinney is committed to contributing to the health and wellness of residents in McKinney and the surrounding communities.
Throughout the year Baylor Scott & White – McKinney offers free preventive health services to the community through activities such as health screenings, health fairs, support groups and community education.
Every year, Baylor Scott & White – McKinney makes significant financial donations to McKinney area non-profit organizations that support healthcare services, educational advancement, and outreach to residents.
The hospital also supports fellow Collin County non-profit organizations by sponsoring annual fundraisers such as the United Way, American Heart Association Heart Walk, American Cancer Society Relay for Life, and March of Dimes March for Babies.
Baylor Scott & White Medical Center – McKinney is dedicated to improving the health of the communities we serve.
Community benefit report
Each fiscal year, Baylor Scott & White – McKinney completes a report of community benefit efforts, according to community needs identified by the FY 2013-16 Community Benefit Implementation Plan, Collin County, as well as specific focus areas identified by Baylor Scott & White Health. We invite you to read our medical center's report on community benefit to find out more about our financial stewardship and how we fulfill community needs.
View our community benefit report
Concierge and information desk
Our visitor information/concierge desk are located on the first floor main lobby of the hospital. Our staff can assist you with general information, maps, notary public services and local eateries/hotel listings.
Call 469.764.1002 for assistance.
Dining options
Town Square Café
The Town Square Café offers a variety of meal options and is located on the lower level of the hospital.
Hours
Monday–Friday
Breakfast: 7:00 - 10:00 AM
Lunch: 11:00 AM - 2:30 PM
Chestnut Village Coffee and Gifts
Chestnut Village Coffee and Gifts is located on the main level of the hospital. Salads, sandwiches and other grab-and-go options are available. We also proudly serve Starbucks® and have various gift items available.
Hours
Monday – Friday: 7:00 AM - 6:00 PM
Saturday – Sunday: 7:00 AM - 2:30 PM
Vending machines
Machines are located on various floors of the hospital.
Lower Level—Town Square Café
First Floor

Emergency Department Guest Lounge
Day Surgery Guest Lounge

Second Floor—Guest Lounge
Third Floor—Guest Lounge
Fifth Floor—Guest Lounge
Estimate your cost of care
Baylor Scott & White Health is an advocate for greater healthcare pricing transparency and patient affordability. We provide a self-service price estimation tool to help you obtain accurate out-of-pocket expense estimates, along with other helpful resources to help you make more informed financial choices about your care.
Estimate your cost of care
Gift shop
Chestnut Village Coffee and Gifts is located on the main level of the hospital. In addition to coffee and light snacks, they offer a variety of gift items.
Hours
Monday – Friday: 7:00 AM - 6:00 PM
Saturday – Sunday: 7:00 AM - 2:30 PM
Medical records
You can request copies of your medical records by completing an Authorization for Release of Information form and returning to the facility at which you received care.
Request your records
Nursing accomplishments
Our nurses are dedicated to the care of a diverse community of patients. As members of our front line care team, they take pride in seeking opportunities to provide a higher level of care.
View nursing accomplishments
Patient admission information
Day of admission
Upon arriving at Baylor Scott & White – McKinney, you and your family will meet with a representative from our admitting department on the First Floor in the Main Lobby. After hours, patient should proceed to the Emergency Department for admission.
Your accommodations
After the admission process has been completed, you will be taken to your room. Your room will be selected based on your medical needs as indicated by your physician. We will attempt to accommodate your room preferences when possible.
Your room is designed for patient care. Any questions on how to operate your television, bed or intercom can be answered by the nursing staff. Please keep radios and televisions at a low volume, so patients in other rooms will not be disturbed.
If you brought jewelry, credit cards or money with you to the hospital, we suggest sending them home with a family member or friend. If you'd like to store your wallet or checkbook in a safe, ask the nursing staff for more information. If you need to retrieve any valuables from the safe during your stay, you may do so by asking your nurse to contact nursing administration.
We recommend that you bring a comb and brush, shampoo, deodorant, toothbrush, toothpaste and shaving supplies with you to the hospital. For safety reasons, we must limit electrical appliances brought into your room to small grooming appliances, such as hair dryers, curling irons and electric shavers. Unless your physician specifically asks you to bring prescribed medications, please leave them at home.
Keep in mind that Baylor Scott & White – McKinney is not responsible for any valuables or personal items that you elect to keep while in the hospital. Dentures, glasses, hearing aids, contact lenses and other personal items are your responsibility. If you keep these items with you in the hospital, we recommend that you place them in the bedside table drawers when not being used.
Patient greetings
Brighten the day of a patient with an eGreeting—a personal message hand-delivered to your loved one.
Send patient greeting
Recognize an employee
Because our staff cares so deeply for those we help, there are those who often go beyond the call to provide great care.
Nominate an employee
Spiritual care
The Chapel is located on the main level of the hospital and is open 24 hours a day for prayer.
Chaplains are on site from 8:00 AM - 5:00 PM weekdays. Chaplains are on call after hours and on weekends for urgent needs. Please dial "0" for the House Operator or speak with your nurse to request a chaplain.
Visitor guidelines
Visits from relatives and friends can play an important part in your recovery; however, they can also be tiring. It is in your best interest that you get all of the rest that you can while in the hospital. If you feel uncomfortable asking people to limit their visits, you might ask a family member or friend to coordinate your visits for you. We do have some requests of our visitors:
Try to keep visits brief and to only two people at any given time.
Please have an adult accompany any minor children and do not leave them unattended.
Wash your hands before and after your visit, so you don't spread germs to the patient.
If you have a cold, flu, or other contagious disease, please wait until you are well for your visit.
Please be respectful of other patients and keep noise to a minimum.
If you want to bring food to a patient, please check with the nursing staff. Some diets are restricted.
Visitors may not smoke on the Baylor Scott & White – McKinney campus.
Visitors may be asked to leave the room during tests or treatments or when the doctor or nurse needs to see the patient.
Volunteer with us
We rely on our generous volunteers to provide several special services. Every volunteer enhances the patient experience in some way by supporting our culture of customer service. Join the ranks of our volunteers to get involved and make a difference.
Become a volunteer