Baylor Scott & White Medical Center – Irving is the premier medical facility providing care to Irving, Las Colinas, Coppell, Grand Prairie and the surrounding communities. The not-for-profit, full-service, fully-accredited hospital offers advanced healthcare services in heart and vascular care, diagnostic imaging, digestive disorders, physical medicine and rehabilitation, cancer care prevention, diagnosis and treatment, orthopedic surgery, and emergency medicine.
The 296-bed hospital is centrally located in the heart of the Dallas Fort Worth Metroplex on State Highway 183. Baylor Scott & White – Irving is accredited by The Joint Commission. The medical center celebrated 50 years of service in November 2014.
Watch video to learn more about our updated Irving campus
More about us
---
Enhanced visitor precautions

Learn more about our COVID-19 safety precautions.

Visitors are good medicine for patients, so family and friends are encouraged to visit. However, because patient care is our primary concern, visiting hours are from 6:00 AM - 10:00 PM in the ICU and from 6:00 AM - 9:00 PM elsewhere. After visiting hours, guests may enter only through designated hospital entrances.

Free parking

In front of hospital
In front of MOB I and MOB II
At the Emergency Department
In the Visitors/Patients Parking Garage behind MOB II and Conference Center

Free valet parking

Main Entrance of the hospital
Emergency Department Patient Drop Off
Medical Office Building II

Please call the operator at 972.990.8100 and they can assist with connecting you to the person or department you need at Baylor Scott & White Medical Center – Irving. Or consult our full phone directory.
Medical services
​​​​​​​​​​​​​
Insurances accepted
Baylor Scott & White has established agreements with several types of insurance to ensure your health needs are covered.
Insurance listings are subject to change without prior notice. Please call the hospital or health plan to verify coverage information before scheduling your visit/procedure.
Choice POS II

Open Access Elect Choice

Open Access Managed Choice

Select SM

Aetna Signature Administrators

Elect Choice

Health Network Option

HMO

Managed Choice

Open Access Select

Open Choice PPO

QPOS

Medicare Advantage Plans

Aetna Whole Health/BSWQA

Baylor Scott & White Health Plan - (16)

HMO Network-Individual/Family

EPO Network-Individual/Family

BSWH Employee Network - PPO & HSA

BSWH Employee Network - SEQA & EQA

BSW SeniorCare Advantage HMO

BSW SeniorCare Advantage PPO

HMO Network-Group

PPO Network-Group

PPO Choice Network

PPO Choice Preferred Network

Cigna PPO Network - Out of Area Member Plan

PHCS/OPTUM - PPO Network - Out-of-Area Member Plan

EPO Network-Group

McLane Group Network

BSW Preferred HMO Network - Group

BSW Preferred PPO Network

Blue Cross Blue Shield - (12)

Blue Advantage HMO

Blue Choice PPO

Blue Essentials

Blue Essentials Access HMO

Blue Premier

Blue Premier Open Access HMO

Medicare Advantage - EFH Retirees

Medicare Advantage - Oncor

ParPlan

Traditional

Indemnity

STAR Kids

Children's Medical Center Employee Plan

City of Dallas Employee Plan

Cigna Choice Fund

EPO

HMO

HMO Open Access

HMO/POS

LocalPlus

LocalPlusIN

Network

Network Open Access

Network POS

Open Access Plus

POS

POS Open Access

PPO

American Airlines Employee Benefit Plan

Galaxy Health Network - (1)

ACCEL Network

Preferred Network

ChoiceCare

Humana Preferred

National POS

Commercial PPO Plans

Medicare Advantage Plans (exclude Southwestern Health Resources Network)

Hunt Memorial Hospital - (1)

Independent Medical Systems - (1)

Midland Memorial Hospital - (1)

Parkland Community Health Plan - (2)

CHIP Medicaid

HealthFirst Medicaid

Prime Health Services - (1)

Sedgwick Preferred Network f/k/a Southwest Medical - (1)

Superior Health Plan - (6)

Ambetter Essential Care - Bronze

Ambetter Balance Care - Silver

Ambetter Secure Care - Gold

Medicare/Medicaid Dual Needs Plan: Advantage HMO SNP

Medicare/Medicaid Plan

STAR+PLUS

Superior HealthPlan - (4)

CHIP Perinate

Foster Care

STAR

STAR+PLUS

Texas Christian University - (1)

Three Rivers Network - (1)

Charter HMO

Charter EPO

Charter POS

Choice HMO

Choice +HMO

Choice EPO

Choice Plus POS

Core HMO

Core EPO

Core Choice Plus POS

Navigate EPO

Navigate HMO

Navigate HMO+

Navigate POS

PPO

Options PPO

Select +

Select HMO

Select EPO

Select Plus POS

AARP Medicare Complete

Dual Complete Medicare Advantage

Medicare Complete

Medicare Gold

Medicare Silver

Group Medicare Advantage

Nexus ACO OA

NexusACO R

UnitedHealth WellMed Network - (6)

AARP Medicare Complete

Dual Complete Medicare Advantage

Medicare Complete

Medicare Gold

Medicare Silver

Group Medicare Advantage

University Mary Hardin-Baylor - (1)
We're sorry!
We couldn't find any results for ""
Mobile makes it easy
Just like we make it easy to get care when your child is sick or injured, our top-rated app, MyBSWHealth, can simplify keeping them healthy. The app lets you book appointments, message your pediatrician, view your child's medical records and schedule virtual same-day care from your computer, smartphone or tablet.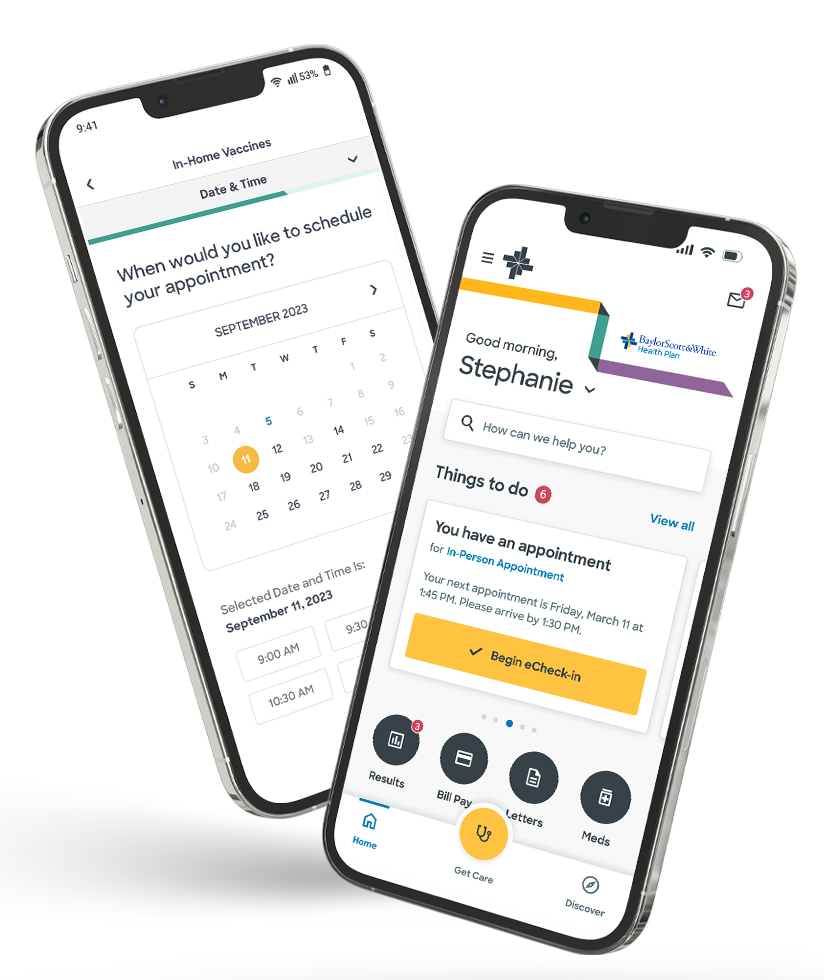 Take a tour
New catheterization, electrophysiology and GI labs
Beautifully appointed mother-baby rooms and labor and delivery suites
Expanded surgical services and day-surgery patient suites
Digital displays of your care plan, scheduled tests and more
Digital tools to help us deliver better care, faster, such as digital wall plates that notify staff of your special needs and specific-need call lights
More helpful information
​​​​​​​​​​​​​Here's more information to help with your visit to our campus.
ATMs
An automatic teller machine (ATM) is available on the first floor beside the cafeteria.
Community involvement
Our commitment to your health extends beyond the walls of our hospitals and clinics.
Meeting community needs
Concierge and information desk
The guest services desk is located on the first floor in the main entrance of the hospital of Medical Office Building I. Guest services can be reached at 972.990.4358. If calling after 6 p.m., please call our operator at 972.990.8100.
Dining options
1901 Bistro
The Bistro is now located in the cafeteria and will be in that temporary location until August 2019. We offer Starbucks® options, hot meal options, grab and go sandwiches, snacks and salads.
Hours

Monday-Friday: 7:00 AM - 7:00 PM
Saturday and Sunday: 7:30 AM - 3:00 PM
Crossroads Cafe
Located on the first floor of the hospital and serves a mix of soups, pizzas, paninis, hot meals, salad bar, and other lunch and dinner delights.
Hours

Monday-Friday: 6:30 AM - 2:00 PM
Closed on weekends
Vending machines
Vending machines are located in the emergency department, first floor beside the café, surgery guest lounge, women's center guest lounge and day surgery guest area.
Estimate your cost of care
Baylor Scott & White Health is an advocate for greater healthcare pricing transparency and patient affordability. We provide a self-service price estimation tool to help you obtain accurate out-of-pocket expense estimates, along with other helpful resources to help you make more informed financial choices about your care.
Estimate your cost of care
Gift shops
The Gift Shop is located on the first floor in the main entrance of the hospital of Medical Office Building I and offers gifts, flowers, snacks and drinks.
Hours
Monday - Friday: 8:30 AM - 4:30 PM
Saturday: 10:00 AM - 2:00 PM
Sunday: 1:00 - 5:00 PM
Flower vending machine
A vending machine with flowers is located on the first floor and is accessible 24 hours a day, offering a selection of floral arrangements starting at $20.
Medical records
You can request copies of your medical records by completing an Authorization for Release of Information form and returning to the facility at which you received care.
Request your medical records
Nursing accomplishments
Our nurses are dedicated to the care of a diverse community of patients. As members of our front line care team, they take pride in seeking opportunities to provide a higher level of care.
Patient greetings
Brighten the day of a patient with an eGreeting—a personal message hand-delivered to your loved one.
Send a patient greeting
Recognize an employee
Because our staff cares so deeply for those we help, there are those who often go beyond the call to provide great care.
Spiritual care
Our newly renovated chapel has moved and is now located on the first floor beside the Emergency Department and is available 24 hours a day.
For more information or to speak with a chaplain in our pastoral care department, please call 972.990.8178 or 972.990.5273.
Visitor guidelines
General visiting regulations:
Smoking (including e-cigarettes) is prohibited everywhere on the Baylor Scott & White campus, including sidewalks and parking areas.
People with colds, sore throats or any potentially contagious diseases should not visit patients.
Length of visits will be determined by the patient's condition.
For the benefit of the patient's healing, visits may be limited.
Visitors should maintain a quiet environment.
Visitors may be asked to leave the room during procedures.
Children must be accompanied by an adult. A patient's nurse determines if children may visit depending on the patient's condition.
Volunteer with us
We rely on our generous volunteers to provide several special services. Every volunteer enhances the patient experience in some way by supporting our culture of customer service. Join the ranks of our volunteers to get involved and make a difference.
Become a volunteer