When the air turns cool and the trees blaze with color, it is time to fill up our baskets and taste the autumn harvest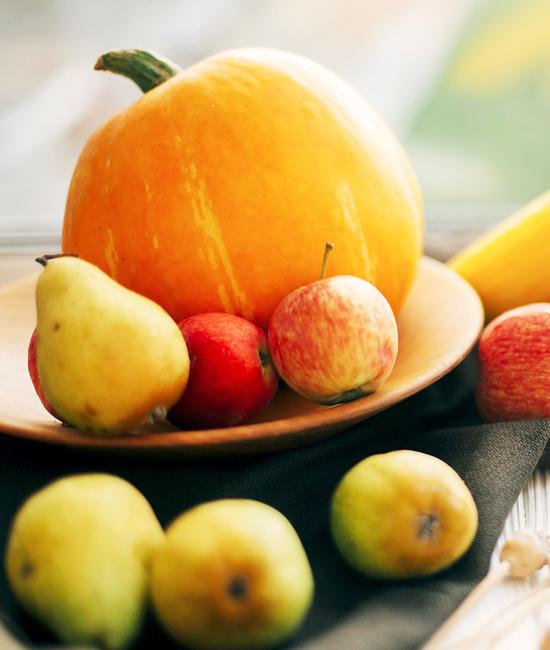 Fall is the time when the temperature drops down and little bit, and we can get excited to get back into our kitchens and start cooking again without melting. I love making long-simmered stews and soups, and the smell from baking, which I avoid during the hot Texas summer.
Luckily, the cooler temperatures bring a completely new crop of seasonal goodies to add to our cooking, from crisp apples to hearty greens, sweet root vegetables and sturdy winter squash.
Grocery stores and farmers markets are full of fall fruits and vegetables offering a range of intense flavors and substantial textures.
Pumpkins seem to get all of the seasonal glory, but here are a few of my favorite fall produce:
Apples
There is a ton of variety of apples. They range from sweet to tart and tender to crisp; you can find a variety of apple for every cooking method. Apples are available year-round, but their peak season is September to November.
Winter squash
Some popular winter squash varieties are acorn (my personal squash favorite), butternut and spaghetti, which can be substituted for pasta noodles. To select, the tastiest winter squashes will be solid and heavy with stems that are full, firm, and have a corky feel. The skin of the squash should have deep color with a matte finish. Avoid squash with cracks, moldy areas and soft spots.
Brussels sprouts
Brussels sprouts, a member of the cabbage family, are my new favorite. I cannot get enough of them. Look for small, firm sprouts with compact, bright-green heads—the smaller the head, the sweeter the taste.
Pears
Pears are sweet, and although a pear is generally considered a fruit to be eaten in its natural state, it is actually as versatile as the apple, especially during its peak season. To select, test for ripeness by applying light thumb pressure near the pear's stem. If it is ripe, there will be a slight give.
---
Contributed by Kari McDonnough, CDM, dietary services and nutrition director at Baylor Scott & White Heart and Vascular Hospital – Dallas.
Sausage-stuffed acorn squash
Servings: 4
Ingredients
2 medium acorn squash
1 pound ground turkey
1 tablespoon of olive oil
1 teaspoon minced garlic
1 teaspoon salt
1/4 teaspoon pepper
1 1/2 teaspoons dried sage
1 medium apple, chopped
2 tablespoons chopped chives
2 tablespoons chopped pecans
Directions
Preheat oven to 400° and line a sheet tray with parchment paper.
Cut the squash in half the short way (Stem on one side, bottom on the other) and scoop seeds out. Cut the stem off if it is large.
Roast facing down for 45 minutes or until tender and cooked though.
While the squash is cooking, make the filling:

In a large skillet, on medium heat, add olive oil and minced garlic.
Once the garlic becomes fragrant, add the turkey, salt, pepper, sage, apple and chives.
Break meat up and stir regularly until meat is fully cooked, and apple is slightly tender.
Turn off the heat and add in the chopped pecans.

Once the squash is finished baking, carefully flip them over and place in a dish with sides so they are sturdy.
Scoop filling evenly in the centers (be generous) and bake for five more minutes to heat through. You may have a little leftover meat, depending on the size of your squash.
Healthy recipes
Download these heart healthy recipes for easy meal time options.